Oh man, I wish there was a google option irl, guys. I can't find Lenny. I don't mean, like, 'Oh shit, where's Lenny?' and I shift some laundry and he tumbles out. I have looked all
over
the place. :( He is my tiny mustachiod friend. Sometimes at night I think I can hear him, but I get up and turn the light on and there's nothing.
I am going to put leaflets through my neighbour's door, I know they have him. They think he is cute so they took him. I know it. I will get him back.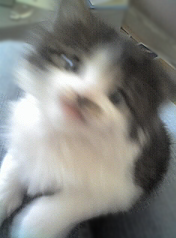 "LOST: A BLACK AND WHITE BLUR WITH EYES LOOKING IN OPPOSITE DIRECTIONS."